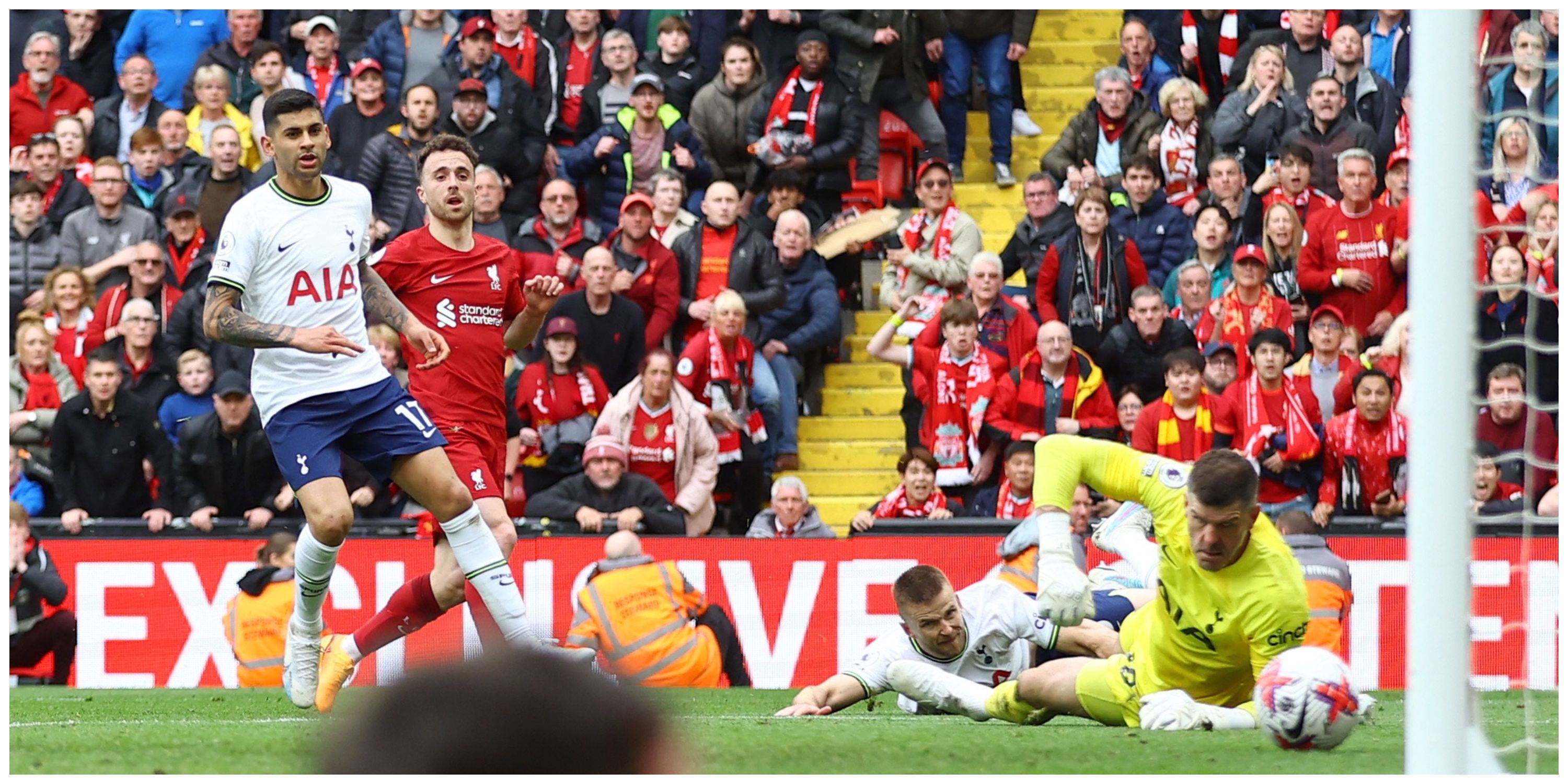 Liverpool and Tottenham played out an absolute thriller at Anfield this afternoon in a game that felt like it had everything.
After Spurs were handed a 6-1 drubbing last weekend, the club's supporters were spotted leaving early for a successive week after being 3-0 down after 15 minutes.
Ryan Mason's side fought back however, with Jürgen Klopp's defence switching off.
Harry Kane struck the first blow before Heung-min Son added a second.
It was up to Richarlison to rescue proceedings at the death, so they thought anyway, as Diogo Jota went up the other end and scored an immediate winner following the Brazilian's equaliser.
Unfortunately for the visitors, Jota was lucky to even be on the pitch.
Did Diogo Jota deserve to be sent off against Tottenham?
Earlier in the clash, the former Wolves forward was involved in a controversial incident involving Oliver Skipp.
The pair went for the ball, although the Spurs man did so more fairly.
Skipp lunged with a header to win the ball, while Jota put his studs up, colliding with the midfielder's head in the process.
It was a horrendous challenge but somehow saw Jota come out of it with his place on the pitch still intact.
Mason, a player whose career was ended by a horrific head injury, was rightly furious that a severe punishment hadn't been forthcoming for Jota, saying: "It's one of the clearest red cards I've seen. I'd like an explanation."
The interim Spurs boss wasn't the only one who was angry with the decision as plenty took to Twitter in response to the challenge. The best of the reaction is below…

#VAR #Missed #Clear #Red #Card #Liverpool #Spurs