Everton's hopes of another great escape took a catastrophic blow in midweek as they surrendered one of their precious remaining home games in a 4-1 loss to Newcastle United.
While Sean Dyche inherited a squad bereft of quality, it seemed that Thursday night marked a true culmination of years of failure.
Despite a strong start which allowed the fans to feed off the players' energy, that hard work was sapped away after a lapse in concentration allowed the visitors to open the scoring. From that moment, it seemed like there would only really be one winner.
The Magpies were relentless in their second-half exploits, completely dominating in every area of the game with more possession, shots, corners and big chances (via Sofascore).
However, where they earned particular success was down their left side, targeting the out-of-position Ben Godfrey.
Whether he is a natural right-back or not, few could excuse the dreary defensive display of the 25-year-old, who was left ravaged by full-time by half of Eddie Howe's squad. It seemed like they all took turns turning him inside and out.
How did Ben Godfrey play vs Newcastle?
Starting ahead of Nathan Patterson, the £75k-per-week centre-back endured a long night under a floodlit Goodison Park.
It is a testament to his underperformance that Sofascore handed him the worst match rating of anyone on the pitch (5.3), even lower than Jordan Pickford (5.7), who shipped four goals.
This was mainly due to the fact that many of the goals came down that problematic right flank, as the former Norwich City ace was dribbled past five times. Of the 13 duels he would compete in, the hulking defender won just three.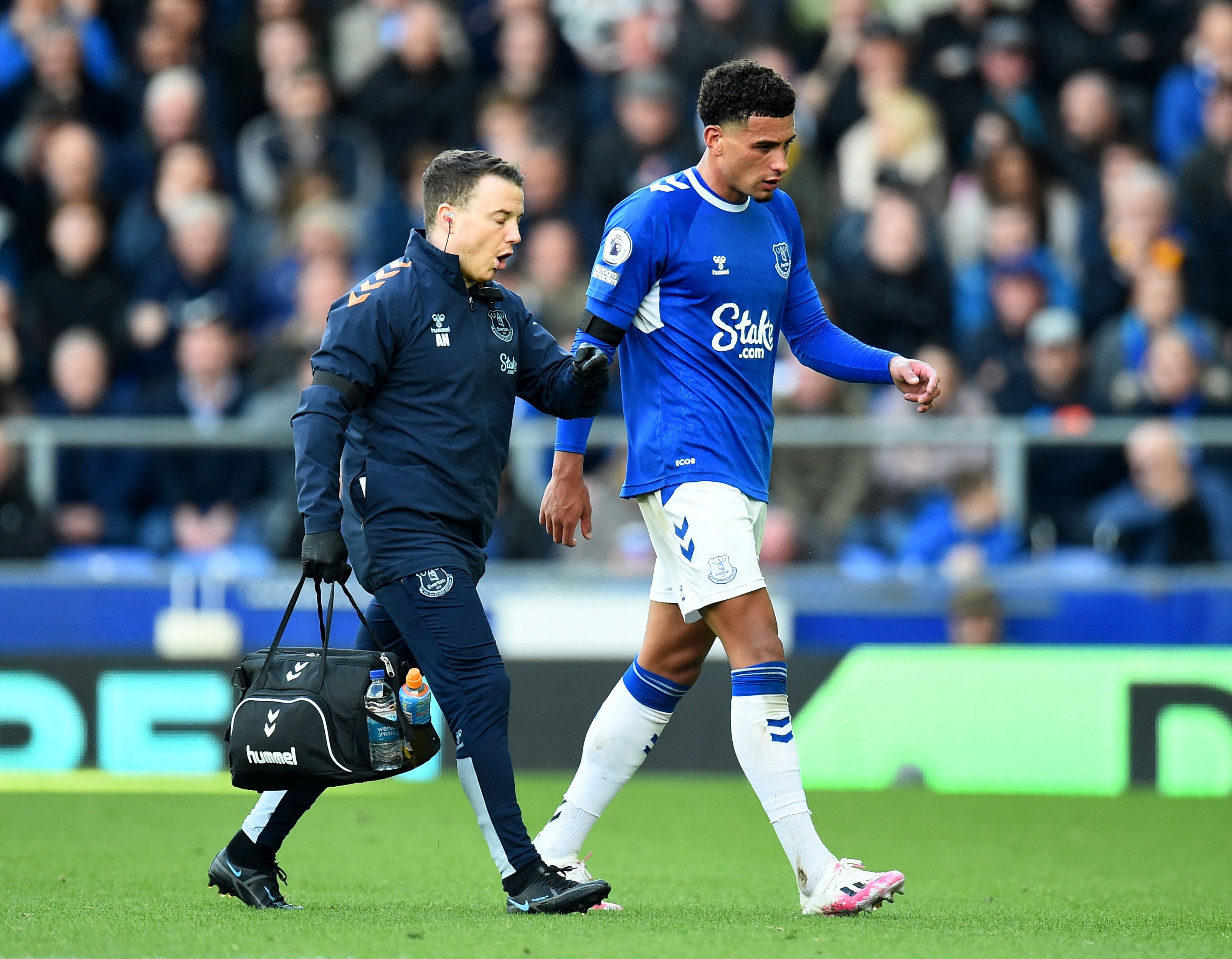 What only compounded a miserable night was the lack of technical quality he showed when on the ball. As someone clearly uncomfortable under pressure, his 67% pass accuracy led to him losing possession 10 times from just 39 touches (via Sofascore).
Defensively inept and offensively anonymous, journalist Matt Guy took to Twitter to claim about Dyche: "Watching Ben Godfrey die a slow death there and doing *nothing* about it is probably a sackable offence in itself."
Having been heralded as a remarkable signing after his £20m move from the Canaries, such an impressive defensive prospect was surely destined for the top.
However, since that first campaign under Carlo Ancelotti, where he maintained an average rating of 7.03, his career has only spiralled downwards.
It has now struck an all-time low, with his most recent embarrassing showing almost feeling like a long time coming for the disappointing Godfrey. Fans are now being shown the true version of this defender, as he was hung out to dry on a dreadful night.

#Evertons #75kpw #Flop #Dreadful #Newcastle